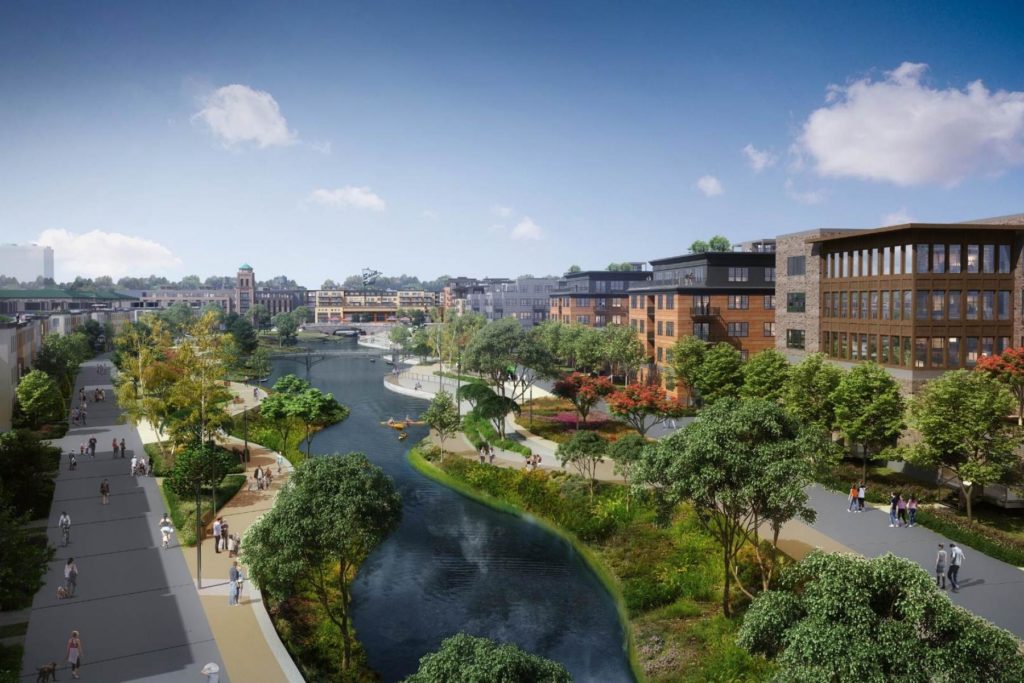 Ryan Companies hosted a virtual housing update with representatives from each of Highland Bridge's housing partners on June 23. This was our largest event to date with more than 425 attendees and dozens of questions submitted. Interest in housing options continues to grow as several partners break ground this year, including Presbyterian Homes, Pulte, CommonBond and Project for Pride in Living.
Keep reading for a summary of housing progress or click the button below to view the full slide deck from the 6/23 presentation.
FOR SALE HOUSING
Custom Homes.  Located along Mississippi River Boulevard, these lots can accommodate dwellings from single family up to 6–units. Lot prices rage from $475K to $1.15M, with construction to begin in early spring of 2022. The initial phase of Custom Homes sales includes 20 lots. There will be an additional 14 custom home lots available at a later date.
Click here for information on remaining availability from the team at Coldwell Banker – Crocus Hill.
Pulte Homes will develop approximately 300 rowhomes at Highland Bridge. Model home unit construction is underway, with models to open this fall. Click here to learn more about rowhomes at Highland Bridge.
Ryan Companies is in the early stages of exploring Condominium options at Highland Bridge. These units would offer single level living within a multi-unit building. The condominiums, located near the Civic Plaza, would be sold via a third-party real estate brokerage team. Further information will be available in late 2021 or early 2022.
RENTAL HOUSING
Weidner Apartment Homes and Ryan Companies have several projects planned at Highland Bridge. Construction is underway at Lot 1 Block 3, the first vertical development at Highland Bridge. It features 230 units of apartments anchored by Lunds and Byerlys. Construction is scheduled to wrap up the summer of 2022. Leasing will begin early 2022.
Lot 1 Block 3 will feature a clubroom with fireplace and kitchen, main lobby with access to leasing office and fitness center, amenity deck with grills/pool/fire pit and extensive landscaping, and 2,000 SF retail space.
Design for the second Weider/Ryan apartment project, located at Block 11, is currently underway. Weidner's current plan at Highland Bridge is for a total multifamily commitment of over 2,500 units ending in Fall of 2030 with Lot 1, Block 29.
Click here to learn more about Weidner Apartment Homes.
Presbyterian Homes and Services broke ground on June 14th on Marvella, a two-building project with 300 Senior living apartments. Anticipating occupancy in 2023, this site will offer a variety of options including independent living, assisted living, and memory care. Presbyterian Homes is currently reviewing prospective floorplans and plans to have an information office available this fall. Click here to learn more about Presbyterian Homes and Services.
AFFORDABLE HOUSING 
Ryan Companies and our partners continue our commitment to executing the vision of the Master Plan for Highland Bridge, which calls for 20% of the housing on site to be affordable, with half of that 20% being targeted to individuals and families at or below 30% of area median income.
CommonBond Communities, will begin construction of a 60-unit building this fall. This site is located along Cretin Avenue, just south of the new Lunds and Byerly's grocery store and will feature housing for low-income seniors. Click here to learn more about CommonBond's involvement at Highland Bridge.
Project for Pride in Living will begin construction of 75 units geared towards affordable workforce housing and 60 units for women in the Emma Norton Program this fall. Click here to learn more about Project for Pride in Living.
Twin Cities Habitat for Humanity
Twin Cities Habitat for Humanity will build 6 affordable rowhomes at Highland Bridge. To learn more or check your eligibility, click here.